Financial Support Resources
Winter Storm Resources-For Helping and Receiving Help
Mayor's Office of Education
For live updates click this link
---
Resources for Senior Citizens
CLICK HERE for support from the American Leadership Forum to:
transport vulnerable populations to a safe place
delivered food, water, and other needed supplies.
Crowd Source Rescue: Focus on warming vulnerable seniors facing dangerous temperatures with space heaters and generators.
Resources for Differently-Abled
Houston's Mayor's Office for People with Disabilities is partnering with CrowdSource Rescue to deliver bottled water to people who are differently-abled and don't have access to reliable transportation. Apply at http://crowdsourcerescue.org/freeze
Resources for Homeless
Houston Area Women's Center: Shelter and support services for victims of domestic violence. Phone: (713) 528-2121 or visit http://www.hawc.org/
Star of Hope: The Star of Hope homeless shelter welcomes donations of toiletries such as lotion, shampoo, deodorant, toothpaste and airbrushes, plus diapers (size 0) and pull-up diapers (size 4T and 5T), underwear for men and women (all sizes), towels and washcloths, twin size sheets and blankets. Sohmission.org
Resources for Immigrants
Hotels
CrowdSource Rescue: Will cover hotel for any TX people needing to pay for it if a nonprofit or organization reaches out to them. The nonprofit or organization should send an email to connect@crowdsourcerescue.org with the details.
Harris County Sheriff's Office If you or someone you know is without shelter and in need of transportation, call the Harris County Sheriff's Office at 713-221-6000 and let them know you are looking for transportation with the HOT Team.
SUPPLIES-Food, water, funds
Mutual Aid Houston: Fill out this form if you are in need of immediate food or water due to the Houston freeze. Mutual Aid Houston will be distributing $100 via Venmo and CashApp until they hit their distribution limits. https://forms.gle/AWoSsA8L2Y5FJXXH8
Free Meals for Young Children (from District H Newsletter)
Children under the age of 6 who live in 43 delivery zip codes are eligible for a Kids Meal Inc.'s free meals delivery program. Meals will also be provided for older siblings when school is out. More info on how to apply can be found here or by calling 713-695-5437 with any questions. The application is here in English or Spanish.
Houston Food Bank helpline: 832-369-9390
Water Distribution: Click here for a list of distribution sites
FEMA announced federal emergency aid has been made available to individuals and business owners who sustained losses in the designated area. People can begin applying for assistance by registering online at http://www.DisasterAssistance.gov or by calling 1-800-621-3362 or 1-800-462-7585 TTY.
Memorial Assistance Ministries Financial Assistance: Financial Assistance Apply online or by phone in English (713) 574-7533 or Spanish (713) 574-7536. Must be low income and live in MAM's zip code service area: 77008, 77009 , 77018 , 77022 , 77024, 77037, 77039, 77040, 77041, 77043, 77055, 77076, 77079, 77080, 77088, 77091, 77092.
HOME REPAIRS
Crisis Cleanup: Register online at https://www.crisiscleanup.org/login?from=%2F or call 844-965-1386 to request help with cleanup or building. Volunteers will contact you when they have resources to help. Flier contains more information in Spanish and English.
Greater Houston Builders Association: List of members here (searchable by the type of professional you need): https://members.ghba.org/memberdirectory
Disaster resource page to help homeowners rebuild with confidence. Articles on the page cover topics from tips for avoiding scammers when contracting for repairs to documentation for insurance best practices: https://www.ghba.org/disaster-resources/
MENTAL HEALTH
National Suicide Prevention Lifeline: Call (800) 273-8255 for English or (888) 628-9454 for Spanish.
Crisis Intervention Hotline of Houston: For 24/7 confidential crisis counseling. Call the general line at (832) 416-1177 or (832) 416-1199 for the Teen Talk Hotline. You can also visit crisishotline.org
Mental Health Support Line: This new service helps callers 9 a.m.-5 p.m. Monday-Friday. Call (713) 558-3777.
WARMING CENTERS
CLICK HERE for list of Warming Centers from the Coalition for the Homeless of Houston
Other Warming Centers:
Foster Family YMCA, 1234 W 34th St
YMCA, 5202 Griggs Rd
Gallery Furniture, 6006 North Freeway or 7227 W. Grand Parkway South
Lakewood Church, 3700 Southwest Freeway
National Association Church, 1605 Air Center Blvd, Phone: 832-626-7111
The warming center has a capacity to hold up to 500 people and is accepting pets.
Those who need help finding a warming center, are experiencing homelessness or who are medically dependent on power may call 3-1-1 for assistance. Those outside the city of Houston can call 713.837.0311.
Report Price Gouging: To report price gouging or other disaster scams call 800-621-0508 or file a complaint online athttp://txoag.force.com/CPDOnlineForm.
Track Power Outages: You can track power outages at CenterPoint's outage tracker: http://gis.centerpointenergy.com/outagetracker/index.htm
Advocacy: Make a public comment on power outages and response to the Texas Senate.
VOLUNTEER OR DONATE
Volunteer Houston assists agencies who are looking for volunteers throughout Houston. For information, go to volunteerhou.org.
The Houston Food Bank needs nonperishables such as peanut butter, canned proteins, protein bars and other things that don't require cooking. To register for volunteer work or to make a donation visit www.houstonfoodbank.org or call 713-547-8604.
Interfaith Ministries for Greater Houston: This agency administers programs ranging from Meals on Wheels to Animals, and offers refugee services and promotes interfaith and community partnerships. The facilities are closed through the end of the week, but for future volunteer opportunities or to make a donation go to imgh.org.
Salvation Army: Offers a variety of services from disaster relief to homeless shelters, food pantries, job training and rehab. Salvationarmyusa.org
Text-to-Give Campaign Benefitting Houston Food Bank: Text ABC13 to 41444 to make a donation of any amount
Donate Blood with the Gulf Coast Regional Blood Center: The severe winter weather has caused planned blood drives to be cancelled. Gulf Coast Regional Blood Center Headquarters: (713) 790-1200 or 1 (888) 482-5663
Coalition for the Homeless: working with governmental entities to ensure needs of people experiencing homelessness are met as cold front impacts our region
Lucille's 1913 Community Kitchen: To help them with preparing and distributing hot meals for those in need, go to the website for donation and volunteer information. Venmo info@lucilles1913.org, Paypal donate@lucilles1913.org
Participate in a Supply Drive: Cajun Navy and Cajun Commissary have partnered with Gallery Furniture to organize a supply drive and distribution. They are asking for bottled water and non-perishable food and blankets.
Bread of Life Disaster Relief Assistance Fund: Beyonce and her BeyGOOD Foundation are partnering with Bread of Life and Adidas. Bread of Life Disaster Relief Assistance Fund offers "one-time financial assistance to those who've experienced a sudden or emergency-related financial hardship due to an unforeseen or unavoidable event.
Act Blue: 100% of your donation will automatically be split between these organizations on the ground providing immediate relief:Family Eldercare, Corazon Ministries, Food Bank of the Rio Grande Valley, Central Texas Food Bank, Houston Food Bank, Food Bank of West Central Texas, The Bridge Homeless Recovery Center, North Texas Food Bank, Southeast Texas Food Bank, Feeding Texas, South Texas Food Bank, and ECHO (Ending Community Homelessness Coalition)
News Articles
---
BakerRipley Neighborhood Tax Centers
Now, that the holiday season is over, we move in to that time of year again- TAX SEASON!
The Baker Ripley Neighborhood Tax Centers are now offering virtual tax preparation. They are also offering in person preparation at one of their 11 locations by appointment only. In order to keep everyone safe, social distancing and masks are required. All information on how to sign up can be found here: www.freetaxcenters.org
If you are eligible but did not receive one or either of your stimulus checks (Economic Impact Payments), you will need to file this on your tax return and may be eligible to receive a Recovery Rebate Credit. The tax centers can assist you with that. The tax centers will not have information on the status of your payment but you can utilize the "Get My Payment" tool on the IRS website to check on the status – https://www.irs.gov/coronavirus/get-my-payment
United Way SAVE
We are offering again this year United Way SAVE, which is a matched savings program. If you file your taxes through the tax centers and qualify for a refund, you are eligible to open a free savings account with Houston Metropolitan Credit Union. If you save anywhere between $100-$1,000 of your refund in that account through January 2022, you will be matched 25% of what you save (with a maximum match of $250). That's a great way to boost your savings and reach those 2021 savings goals!
---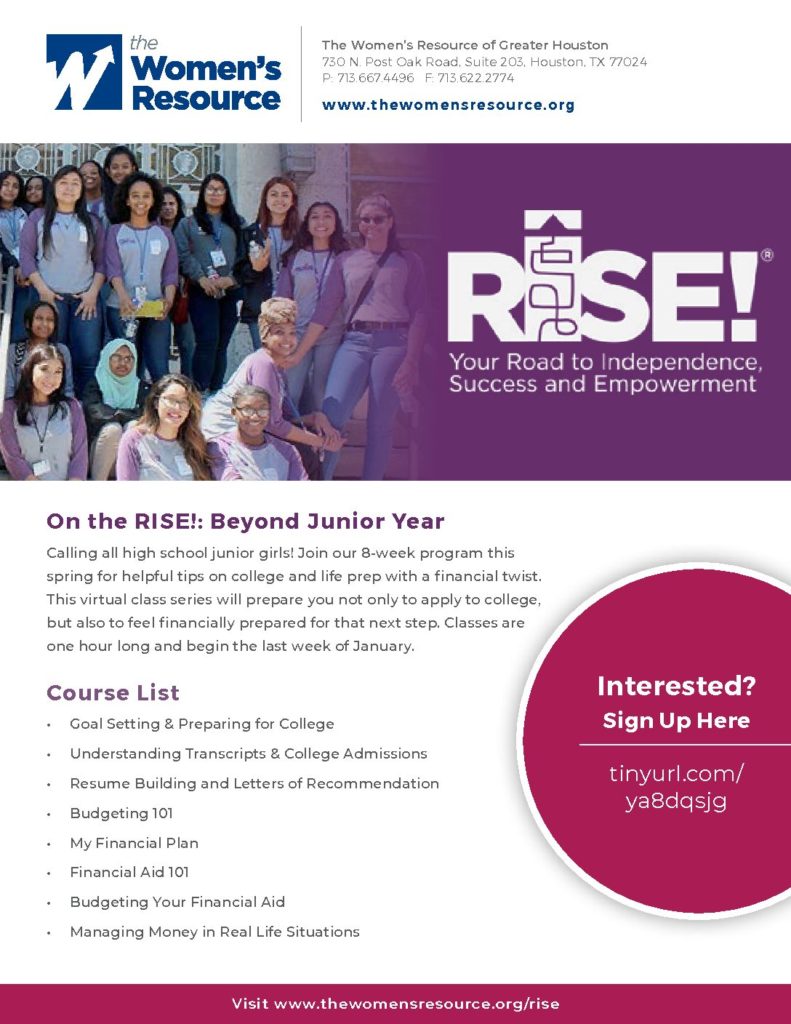 RISE! program will have an 8-week long program this spring for high school junior girls to prepare for college with a financial literacy lens.
Click the link in the document to get more information and sign up!
---
Change your balance with SaverLife.

Did you know that 39% of Houstonians are unable to cover an unexpected expense of $400 without going into debt, according to the 2020 Kinder Houston Area Survey?
United Way THRIVE, in partnership with JPMorgan Chase and SaverLife, is launching the Houston Saves campaign focused on helping small business owners and their employees build an emergency savings fund through the SaverLife platform. Every month that an individual saves $30, they are matched $20 – for up to 6 months. Participants will also receive $5 just for signing up!
Due to the impact that the pandemic has had on income and savings among small businesses and their employees, the campaign is focusing on that audience, however anyone who is interested in participating is invited to sign up.
---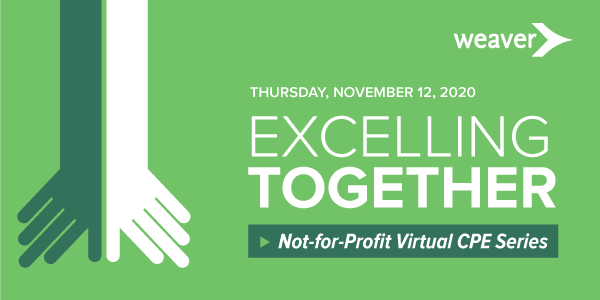 1 CPE credit available for each live webinar • Level: Basic • No prerequisites • Free to attend
You and your board members are invited to join the conversation and advance your skills at Excelling Together 2020, Weaver's Not-for-Profit CPE Series. Our half-day series features presentations and networking opportunities to keep you informed and connected.
Creative Fundraising in a Virtual World: Erica Yaeger, Chief External Affairs Officer, North Texas Food Bank
1:00 – 2:00 PM CST Register
Kicking off our series, Erica Yaeger, Chief External Affairs Officer, North Texas Food Bank, shares her firsthand experience in developing innovative fundraising opportunities that engage donors in our new virtual world.
Communicating with the Board: Rob Nowak, Partner in Tax Services, Weaver
2:30 – 3:30 PM CST Register
Sharing critical financial data can become challenging when board members have varied experience and understanding of not-for-profit accounting. This session offers insight on the financial reports your board finds most valuable and how best to present that information.
Building an Inclusive and Diverse Board
Live Panel Discussion
4:00 – 5:00 PM CST Register
Weaver brings together a panel of not-for-profit diversity experts to discuss the challenges of creating a diverse board and what not-for-profit leaders can do to encourage board participation from all backgrounds.
Dr. Froswá Booker-Drew, Vice President of Community Affairs and Strategic Alliances, State Fair of Texas
Ronnie Hagerty, Assistant Vice President of Community Relations, United Way of Greater Houston
This webinar is for all levels of accountants, finance professionals and CFOs. Please note that each person should register and attend individually in order to receive CPE credit.
---
How Tenets can Protect their Rights!
Join Houston Volunteer Lawyer's Staff Attorney Leesa Everitt as she discusses the Order and hosts a short Q&A.
Click on a date below to register!
---
Greetings BGCGH Supporters:
Summer is quickly rounding out. We have seen needs increasing in each of our communities. We look forward to your support on the referrals and volunteerism at our club, pantries, and initiatives. We appreciate your ongoing support- Stay Safe!
Family Engagement Program: Financial Resources for Families:
PROJECT GIVES– this program provides emergency food assistance through resource gift cards and direct food access through local restaurants at no charge to the family. For family/client referral please have them apply here https://www.surveymonkey.com/r/projectgives or for more information email projectgives@bgcgh.org .
Healthy Lifestyles Program: BGCGH Drive Thru Food Pantries:
We still need your assistance for our BGCGH Drive-Thru Pantries. This week we are in need of volunteer support at 4 of our pantries. Please use this link to sign-up if you are interested https://www.signupgenius.com/go/409084AA5AF22AAF49-bgcgh20
The work will be as SAFE as possible: data recording, packing – boxes/bags, placing bags in trunks or on the sidewalk- all while social distancing, masks (feel free to bring your own face covering as well), and gloves. The respective clubs will be open for employee and volunteers to wash hands, use restroom, and take breaks. See attached Flyer for dates and times.
Also, please check our website for up-to-date information on all of our efforts www.bgcgh.org .
If you have questions, please let us know. Thanks so much for your support- we appreciate everyone's help small to big!
---

Collaborative for Children and Workforce Solutions, in partnership with the City of Houston, Harris County and other community partners, will match you with high-quality child care that best suits your family's needs. And, you can apply for financial assistance to offset child care expenses from Workforce Solutions.

IMPORTANT INFORMATION:
PLEASE READ THE INFORMATION BELOW BEFORE COMPLETING THE REGISTRATION FORM.
If you, or anyone in your household, have tested positive for COVID-19, have a case "under investigation," or have been determined presumptively positive and asked to quarantine, DO NOT APPLY for child care services and follow the advice of health care professionals.

If you only need financial assistance and do not wish to complete the above online registration form, you may download a pdf file attached.
---