Ideathon for High School Students
Promoting Education Across the Country (PEAC) has partnered with the UNICEF, the MOE and the COH Office of Sustainability. to host a city-wide High School Ideathon. The event aims to create a platform for youth to learn and engage with community challenges and propose solutions to city leaders. The Ideathon will held virtually on Saturday, January 16th from 9am – 5pm.
Students and young people are invited to:
Discuss the community challenges brought upon COVID-19, Climate Change and among others, that have impacted their communities.
Conduct research on the impact of these issues
Work in teams to construct and present solutions to city leaders.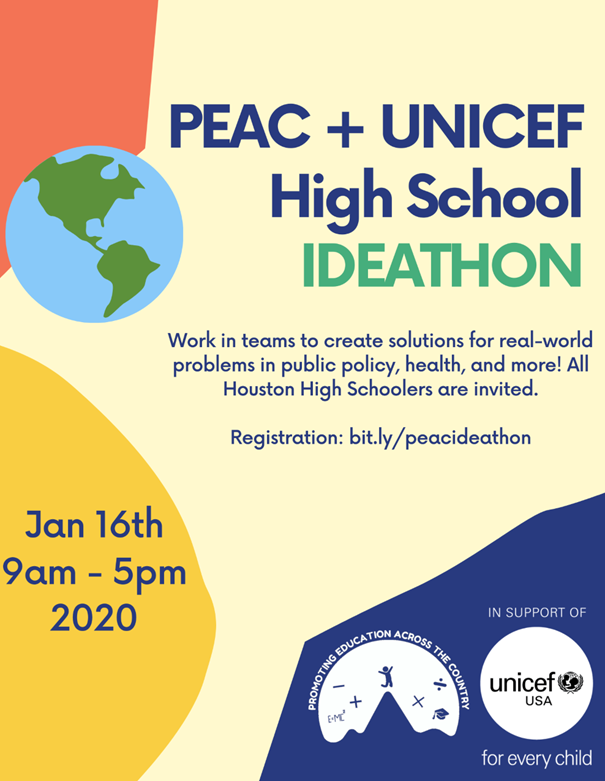 Mentors from colleges and professional industries will be advising student groups. Teams will gain recognition from PEAC, UNICEF, and the City of Houston. PEAC is a Houston-based nonprofit that aims to empower youth to solve issues within their local community.
Please share this opportunity with your students and respond for more event information. The registration can be found on UNICEF's website here.
---
Special Education & COVID-19 Survey
The COVID-19 pandemic has abruptly changed the way students learn, communicate, and engage with their fellow peers and teachers. Students with disabilities are experiencing additional barriers in accessing e-learning platforms, supports and services that enable them to fully participate in these virtual environments. To assist school administrators and policy makers better respond to future emergencies, we have developed the COVID-19 and Special Education Survey. By participating in this survey, your experiences will assist us to highlight the most common barriers students with disabilities are facing throughout the Houston region.
The survey results will be used to shape policy recommendations that will be shared with local, state, and federal policymakers to better serve students with disabilities during emergencies such as a pandemic. These policy recommendations will be incorporated into a white paper that will be available at www.houstontx.gov/disabilities.
Thank you for taking the time to complete this survey. Please feel free to share the survey with colleagues, family members, neighbors, advocates, and friends.
This survey is made possible with the support of our partners:
The ARC of Greater Houston
The Office of Council Member Karla Cisneros
The National Federation of the Blind of Texas
Family to Family Network
Houston Council on Disabilities
Mayor's Office of Educations