The Benefits
The Out 2 Learn Network understands the importance of having access to strong afterschool and out-of-school programs. Studies show when youth participate in higher quality programs they tend to:
Increase school day attendance
Increase afterschool attendance
Increase positive behavior
Increase engagement in instruction and skill-building activities
Decrease grade retention
Decrease disciplinary referrals
A safe and supportive environment promotes skill-building and learning. Interaction and engagement are enhanced as well, and what's more, kids who are immersed in such a positive culture tend to develop ownership over their own learning.
How We Recognize Quality
Members of the Out 2 Learn Network are evaluated initially and continually on-going for quality on several levels. We use the Youth Program Quality Assessment (YPQA) tool developed by the David P. Weikart Center for Youth Quality.
Each member will assess, plan and improve the quality and overall youth experience of their program. They must participate in at least 10 hours of training and receive unique coaching catered to their site needs. Site managers and direct staff attend rigorous hands-on training to understand their role and the impact their efforts will have on youth. Once an organization completes this process they then receive the Committed 2 Quality symbol.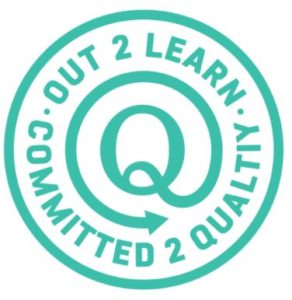 The Committed 2 Quality symbol is displayed on the pages of that organization's site indicating that:
Youth receive programming from an agency dedicated to delivering high- quality instructional practices and increasing student engagement.
Parents are assured the providers are receiving continuous training on best practices for afterschool youth programs, and annually assess program delivery.
Providers receive 10+ hours of training, coaching and support.
Funders see that agencies are maximizing investments by implementing local and national best practices.
Maintaining Quality
The quality control is an ongoing process. Each site conducts an internal assessment once a year to determine their progress in four categories:
Safe Environment
The program's environment is evaluated to ensure youth are in a safe and sanitary place and are provided with opportunities to have nutritious food.
Supportive Environment
Each program evaluates its adult support for the youth with respect to individual growth and learning, which is critical to the development of both skills and healthy relationships.
Interaction
Each program gets evaluated based on its ability to positively affect the peer culture among youth. A strong peer culture helps kids find a sense of belonging, helps them develop leadership skills and helps with conflict resolution.
Engagement
Each program is evaluated on youth readiness to actively take ownership of their learning, to plan and make choices, and to reflect and learn from their experiences.