K- 5 NATURE CAMP
Back by popular demand for 2022, Houston Botanic Garden presents BotaniCamp, a plant-centric nature camp for K-5 students. The sensory and inquiry-driven curriculum will present many opportunities to go beyond just observation.
Summer BotaniCamp 2022
Monday-Friday, May 30-August 12
9 a.m. to 2 p.m.
(drop-off from 8-9 a.m.)
$225/child per week
(Garden members save $25 per child per week)
Add Gardening & Nature mini-camp, available 2-5 p.m., for $115/child per week (Garden members save $30 per child per week).
Click for more information.
For more information, email education@hbg.org.
---
---

CASE for Kids City Connections is an initiative funded directly by the City of Houston to support nonprofit organizations that address the need for youth services outside the school day. Projects funded by the CASE for Kids City Connections program will take place in each Houston city council district in a variety of locations, including schools, community centers, and churches.

The City Connections Grant application is now online. Click for more information on
applicant eligibility and program requirements:

The deadline to apply is September 13, 2021, at 2 p.m.
---
---
The Mayor's Back to School Fest Presented by Shell is designed to help economically disadvantaged Houston-area elementary school students and their families as they prepare to return to school.
This year's event will be a drive-through distribution, at NRG Park Yellow Lot. In addition to providing 25,000 filled backpacks, the Mayor's Office of Special Events has partnered with the Houston Food Bank to provide food to the families of these students, free of charge.
Harris County Public Health will also be onsite to administer COVID-19 vaccinations for anyone 12+.
When: Saturday 8/14/2021
Time: 8am- 4pm
Where: NRG Park Yellow Lot. Entrance will be on Main Street between Murworth Drive and McNee Road, Gate 16.
Register for event.
---
Harris County partnered with Catholic Charities as the administrator for $30 million in financial assistance to help Harris County families and individuals who need help recovering from financial distress caused by the COVID-19 pandemic.
For households located within Harris County that meet eligibility requirements
One-time $1,500 payment
Funds may be used for any emergency expenses such as healthcare, rent or mortgage, utilities, food, internet, transportation, childcare, and other past due expenses
What are the eligibility requirements?
Households have to be within Harris County.
Applicants must be 18 years or older, or be an emancipated minor.
Households must demonstrate economic hardship incurred during the COVID-19 pandemic.
Household must have at least one member enrolled in a public assistance program, or total household income at or below 60% of the HUD Area Median Family Income.
One payment will be made per family unit. If housing is shared by more than one family unit, each family unit may apply.
As required by federal guidelines, at least one adult member of the household must be a U.S. citizen, legal permanent resident, refugee, or other qualified noncitizen.
How is the money being distributed?
From July 28 – August 11, any eligible household in Harris County may apply online.
Applicants will be selected at random using a statistical method that ensures fairness.
Click to learn more on how to apply.
---
---
---
The P-EBT application is now open. Pandemic Electronic Benefit Transfer (P-EBT) is for families with children (up to age 21) who temporarily lost access to free or reduced-price meals at school during the COVID-19 pandemic.

To learn more about these benefits, click here.
The deadline to apply is August 13, 2021. Apply for benefits online.
---
Global Kids is pleased to announce the 2021 U.S. in the World Energy Policy Institute. This free, two week-long institute will be held remotely in partnership with The African American Library at the Gregory School in downtown Houston. High school students of diverse backgrounds will explore energy policy and human rights issues, and enhance their leadership, communication, and critical thinking skills through interactive workshops, virtual field trips, virtual college visits, and dialogue with guest speakers.
For more information and for the application, click here.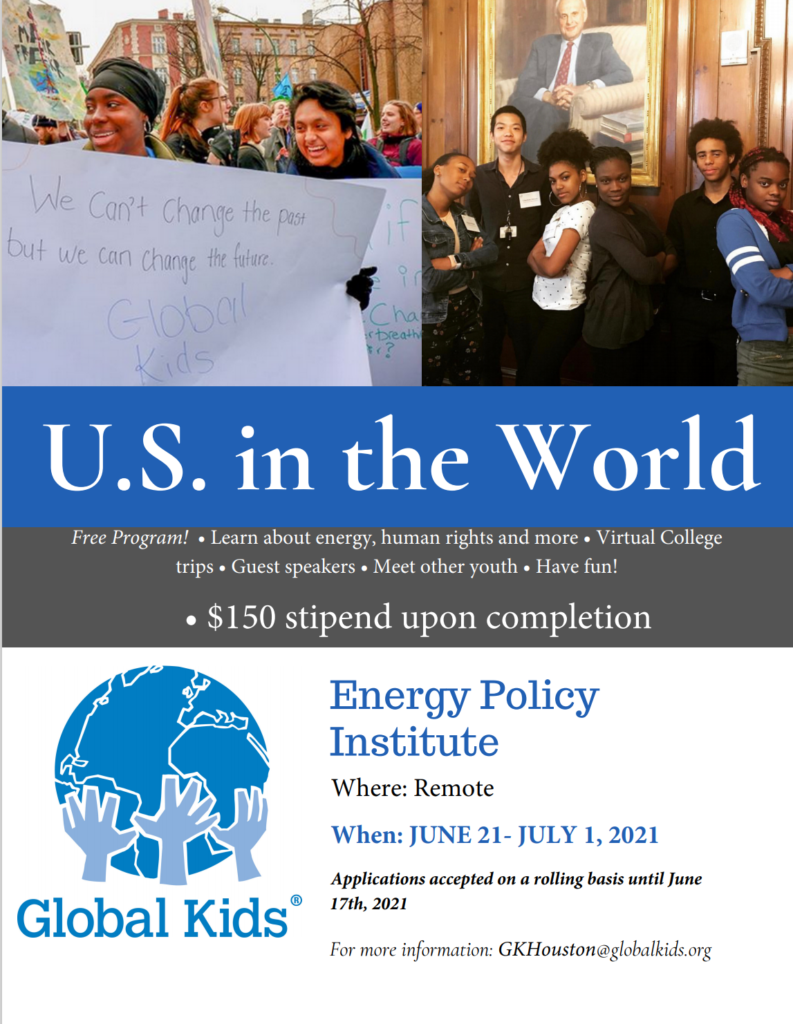 ---