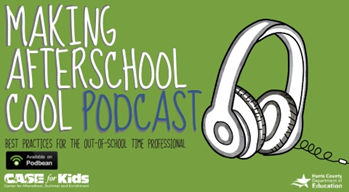 Available on iTunes, Podbean, our ever you listen to your favorite podcast.
This episode of the Making Afterschool Cool Podcast features the Out 2 Learn resource network. Initiated in 2017, Out 2 Learn is a collaborative initiative dedicated to increasing access to and improving the quality of out-of-school time (OST) opportunities in Greater Houston. This is a collaborative effort led by Houston Endowment, the City of Houston Mayor's Office of Education, Harris County Department of Education's CASE for Kids, and United Way of Greater Houston. Out 2 Learn is a valuable resource for parents in Houston to find out-of-school and afterschool programs that will benefit and engage their children.
During this this podcast you will learn about:
· The purpose of Out 2 Learn
· Other similar quality initiatives in Texas and United States
· Out 2 Learn as a resource for youth service providers
· Out 2 Learn as a resource for parents
· Future funding opportunities related to COVID-19
Guest
Tiffany Echevarria has served the community for over seven years through various capacities. She is tremendously grateful for the opportunity to have served as an AmeriCorps member implementing an afterschool program. She credits that experience for inspiring her dedication to the OST field. Tiffany currently manages grant processes aimed at strengthening programs that support youth ages five to early adulthood. She also supports several projects that convene partners to work collaboratively, including Out 2 Learn.
Resources
Greater Houston COVID-19 Recovery Fund
Greater Houston COVID-19 Recovery Fund — Inquiry Fund
Harris County Department of Education